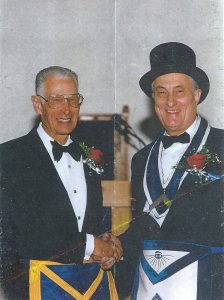 Gerald As Worshipful Master (founder Black Mountain Lodge No. 845), on the right, with P. Grandmaster Jack R Levitt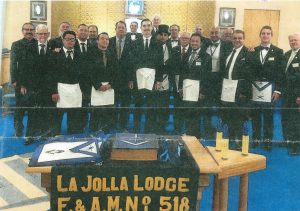 The Brother in the middle with the moustache is the newly obligated Fellowcraft.
Other brothers with white aprons are Fellowcraft or Master Masons. Entered Apprentices are not present, it was a second degree. (Note: EA wear theirs with the flap turned up. No Ornamentation's on the aprons. A USA Mason visiting your Lodge will wear a plain white apron, unless he is a Past Master. We are F.&A.M. not A.F.&A.M.) Worshipful Master is wearing his top hat (Standard in Califoria). Behind him is his Orator – Gerald- White hair!
Bible with the Square and Compass,  (not Compasses in the U.S.A. California anyhow) (Legs closed – Lodge closed).
Arranged differently for each Degree, Implements face the candidate NOT the Master.
Altar is located in the center of the Lodge Rectangle. Note: The Center of the Lodger is halfway between the Altar and West.
The Three Lights are self evident.
Behind the door, top right, is the Chamber of Reflection. Also used in France, Mexico and the Scottish/Ancient & Accepted Rite.