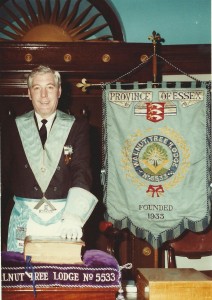 Bro. Sidney David Faires
Sadly, W. Bro. Sid Faires PPGSwdB who had been ill for some time was called above on Thursday 11th May 2017.
Sid was born in West Ham on the 24th January 1933 (should have been called Michael John but on registering his birth his Father could not remember the names given so called him after two work colleagues or so the story goes) and later moved to Plaistow. He was originally one of 13 (9 boys and 4 girls). Two of the boys died at a young age with 11 surviving until adulthood. Sadly, one of his sisters died on April 1st leaving only two girls and four boys.
During the Second World War he was evacuated to Clacton and then Somerset but as this was not a good time for Sid his parents took him back home.
On leaving school Sid worked with his father and brother as a painter and decorator.
National Service being a strong possibility and Sid not wanting to join the Army, so being one step ahead Sid signed up for the Navy. Sid was over 6 foot but he became a Sub-Mariner, and must have hit his head many times.
He stayed with the Navy for 12 years and on leaving joined the Port of London Authority Police, eventually transferring to the Metropolitan Police. By 1980 he had joined the Flying Squad at New Scotland Yard as a Detective Constable and found himself in the Sutton Bridge area being involved with an enquiry into the murder of a forecourt attendant and another murder case known as the Teddy Bear murders, these were connected. When he retired from the Police he was employed in the security at the London Arena.
When Sid eventually retired he was able to concentrate on another passion of his which was golf and Eileen recalls in 1991 on returning from a very bad round of golf Sid declared that they were moving which they did to Sutton Bridge. At that time they were living in Hornchurch.
Sid was proposed into Freemasonry by W. Bro. Colin Smith and Seconded by one of our current Honorary Members W. Bro. Les Breadmore. He was Initiated into Walnut Tree Lodge 3rd June 1975, Passed on 3rd June 1976 and Raised 4th May 1977, he was exalted on 28th March 1978. He held various progressive offices and was as installed as the 50th Master on 8th October 1984, he continued as a Director of Ceremonies until 1994 when he became a Country Member, finally resigning in June 2000.
Sid married Eileen 1957 and at Christmas this year would have been their 60th Wedding Anniversary. They have two sons, Michael who followed his father's footsteps into the Police and Roger who retired after a career with the Ford Motor Company. They each have three children.
Sid was an excellent ritualist and was renowned for his ability to carry out any Office when called upon. His learning ability must have come from the discipline gained as a Sub Mariner and the Police Force.
He was without doubt a highly respected man, generous, caring, a true friend, a pillar of society, reserved and loved by all who knew him.
A detail of Sid's other Lodges and Chapter are given below:
Lodges
L5533 Walnut Tree 1975-2000
L45 Strongman 1979-2012
L3182 West Norfolk 1990-2009
L107 Philanthropic 2010-present
Chapter
C2750 Waltham Abbey 1978-1981
C45 Strongman 1982-2002
C9013 Geoffrey Dicker 1999-Present
C45 Strongman 2013-Present (Honorary Member)
Lodge Offices
L5533 Walnut Tree 1984/85 Master
L45 Strongman 1987-1988 Master
L3185 West Norfolk 1996/1997 Master
L107 Philanthropic 2015-2016 Master
Chapter Offices
C45 Strongman 1985/86 MEZ
C9013 Geoffrey Dicker 2006/2007 MEZ
Provincial Ranks
L5533 Walnut Tree 1991 PPJGD
L3182 West Norfolk 2003 PPDGC
L107 Philanthropic 2015 PProvGSwdB
Royal Arch
C45 Strongman 1985 LGCR
C9013 Geoffrey Dicker 2010 PProvDepGDC
C9013 Geoffrey Dicker 2013 ProvGStwd
As Sid was a member of the Philanthropic Lodge, and because of its history, it is thought worthy to publish some details:-