Old Walnut Tree Lodge Regalia Discovered in an Antique Shop.
What a Strange and wonderful world we live in.
If I hadn't submitted our new Web Site to Chris Smith for approval, he wouldn't have known about our Lodge and therefore when he came across a small leather regalia case,  in the Antique Centre in Battlesbridge, he might just have left it at that.
But upon looking inside he found a Grand Lodge Certificate for Douglas Wintson Flint of the Walnut Tree Lodge in Essex he immediately thought of me, and straight away emailed me. I sent a text to our Secretary, Bob Roberts, who confirmed that Douglas had indeed been a brethren of our Lodge. He was proposed by Gerald Winstanley and in June '51 was the 67th initiate. sadly he died in 1965. How the regalia came to be in an antiques shop in 2014 isn't known, but it's now in very safe hands at the Walnut Tree Lodge.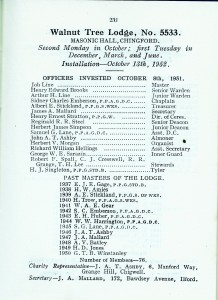 Above is page 231 from the Essex Freemasons' handbook
The full contents were:
A Grand Lodge Certificate issued in 1953
A blue Nigerian Emulation Book dated 1949
Walnut Tree Lodge By-Laws Dated September 1947
A Festive Board dining Postcard
Book of Constitutions, dated 1947
Essex Freemasons' Handbook, dated 1952-53
A Stewards Royal Masonic Institution for Girls Jewel dated 1965
A Master Masons Apron.
Below is a slideshow of this regalia found in the case:-